This has been the craziest weekend! I have spent many, MANY hours watching, rewatching and recording every damn thing about the wedding of Wills and Kate! So fun, so exciting, so tiring. LOVED it.
Can we talk about the ensemble, please? I really like the dress. Loved the lace. Loved the sleeves (not that she had a choice), loved the tiara and earrings. I was hoping for a little more drama with the train,
but I can understand her classic yet modern take on everything. I Did NOT like the flowers, you are the future Queen of England, can you skip the baby's breath bouquet? I'm not looking for this:
or this:
but shit, show up Duchess.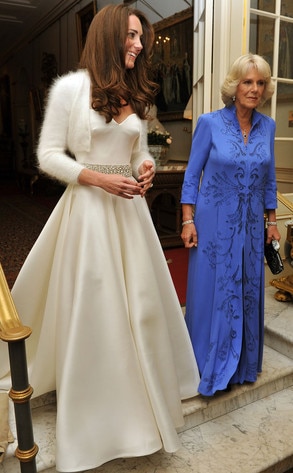 I even liked Kate's 2nd dress. Once again she went for understated with a touch of fun. I wish Camilla wasn't wearing a damn housecoat, but I don't expect much from her.
She was stunning in both her bridesmaid dress and reception dress (that green color is kill-er).
Besides being awake for what seemed like days, it was so worth it. When the hell will something of this magnitude ever happen again?
Side note: what's with the C for Catherine and K for Kate? Brits. Crazy folk.
And then we have the death of Osama bin Laden. Douche. Don't F with the USA. Let history be your teacher, it never ends well.
So all around, good week.